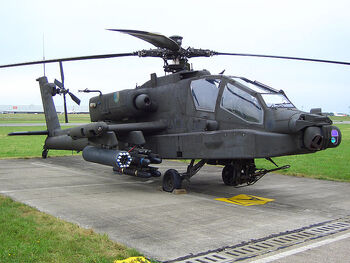 An
Attack Helicopter
is a
helicopter
designed mainly for attacking ground targets with rockets, missiles and often a
nose cannon
. Nearly all, with one exception being the
RAH-66 Comanche
, which uses plates which can be folded into the fuselage, use 
wing
pylons for carrying their payload.
Most attack helicopters have a crew of two: a pilot and a co-pilot. In most helicopters, the pilot is responsible for using the primary wing armament, and the co-pilot operates the nose cannon and missiles. One well-known exception, the Ka-50 Hokum (also known as the Werewolf, Helicopter Soldier and Black Shark) has a crew of just one.
AH-64 Apache, AH-1 HueyCobra, RAH-66 Comanche
Ad blocker interference detected!
Wikia is a free-to-use site that makes money from advertising. We have a modified experience for viewers using ad blockers

Wikia is not accessible if you've made further modifications. Remove the custom ad blocker rule(s) and the page will load as expected.