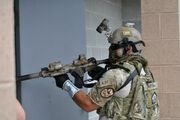 The
Heckler & Koch HK416
is an
assault rifle
designed and manufactured by
Heckler & Koch
. It is based on the AR-15 platform, and is often seen as an upgrade to the
M4 Carbine
, with the notable inclusion of a proprietary short-stroke gas piston system derived from the G36. The HK416 is famous as the gun that
United States Navy SEALs
used to kill
Osama bin Laden
.
The US Army's Delta Force, at the request of Larry Vickers, co-operated with Heckler & Koch to develop a new carbine in the early 1990's. Originally called the HK M4, the name was changed in response to a trademark infringement suit filed by Colt Defense.
Delta Force adopted the HK416 in 2004 following tests which showed the mechanical reliability of the rifle. Several special operations units as well as the Norwegian Armed Forces also prominently operate the rifle. A modified rifle was also developed and tested as the M27 IAR, of which 452 were made from existing HK416's. Five US infantry battalions operate the IAR.
Ad blocker interference detected!
Wikia is a free-to-use site that makes money from advertising. We have a modified experience for viewers using ad blockers

Wikia is not accessible if you've made further modifications. Remove the custom ad blocker rule(s) and the page will load as expected.