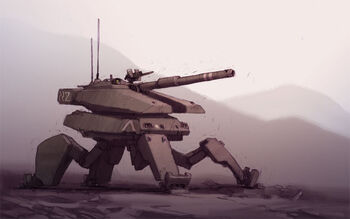 The
MZ-11
is a fictional joint
US
-
British
battle mech
. It is the most powerful battle mech in
World of War
. It was originally outfitted with only a 105mm howitzer, but was upgraded with rocket pods. The howitzer has high power, decent accuracy and little delay between shots; however, this can deplete its ammunition quickly, and the MZ-11 is very slow. Its legs are also vulnerable to anti-tank weapons, and if destroyed will immobilise the mech.
Ad blocker interference detected!
Wikia is a free-to-use site that makes money from advertising. We have a modified experience for viewers using ad blockers

Wikia is not accessible if you've made further modifications. Remove the custom ad blocker rule(s) and the page will load as expected.